The Legends Return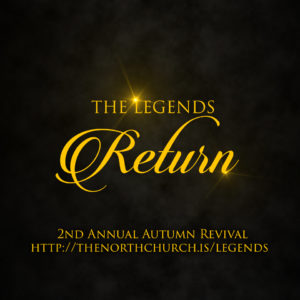 The Legends are back!  Our second annual Legends of the Fall series starts on Saturday, September 16 at noon! Dr. C. Wesley Knight – associate professor of theology professor at Oakwood University in Huntsville, AL – is our first guest speaker.  Bishop Walter Scott Thomas, senior pastor of the New Psalmist Baptist Church in Baltimore, MD, and his choir join us on September 23.  Dr. Jesse Wilson – also an associate professor of theology at Oakwood University – speaks on September 30, and Pastor Laurent Grosvenor of the Temple Gate Church in Selma, Alabama, closes out the series on October 7.
If you attended last year's series, you'll recall how God blessed us tremendously!  We anticipate no less this year, and encourage you to bring your family and friends so they too can experience the ministry of these powerful speakers.
Want to help us spread the word about the revival?  Download the series graphic and post it to your social media accounts; use hashtags #legends, #autumnrevival and #thenorthchurch.